A Green New Deal
A teach-in on Progressive Taxes, Single Payer Healthcare and Running for Office
Sunday, February 12 from 2 to 5 pm
ArtRage Gallery, 505 Hawley Ave.
Free and open to the public!
Join the discussion as we
demystify how state taxes affect our community
learn the how we can fight for Universal healthcare for all after the Affordable Care Act (Vermont did it!)
hear about how to run a successful campaign for office!
Speakers to include
Gustavo de la Roza, MD
Karen Nezelek, Single Payer NY
Howie Hawkins, Green Party
Mary Jo Long, Green elected official from Afton, NY organizing for local hydrofracking bans
Sponsored by the Green Party of Onondaga County

Progressive Tax Reforms ... Single-Payer Medicare for All ... Community Hiring Hall ... Co-ops and a Municipal Development Bank ... Public Power for Clean Affordable Energy ... Transportation Justice ... Ida Benderson Senior Center ... Fair Elections ... Labor Committee ...
... read more ...
Dear 4th District Voters and Campaign Volunteers and Donors,
I am writing to thank those who supported my campaign and to invite you to join in our next steps fighting for progressive taxes, living-wage jobs, fully-funded schools, clean affordable energy, and public transit.
With all the ballots now counted, I received 48.1% of the vote, losing by just 96 votes: 1214 to 1118.
We may have lost the election to the office. But the 4th District sent a strong message of support for our policy platform, including:
Progressive Tax Reforms to make the rich to pay their fair share of taxes again so that our schools and city services are fully funded,
A Community Hiring Hall as part of a reformed Living Wage Ordinance to ensure a fair share of city-funded jobs for minorities and city residents,
A city-owned Municipal Development Bank focused on developing community-owned worker and consumer cooperatives in the city,
A Public Power utility for affordable clean energy, and
Transportation Justice for better bus service and safe walking and wheeling on our streets.
... read more ...
Close Election Sends Strong Progressive Message
We received 48.2% of the vote on election night, losing 1072 to 1154, an 82 vote difference.
The voters of the 4th District sent a strong message of support for the progressive platform on which we ran, including Progressive Tax Reforms to reverse austerity policies and fully fund our schools and city services, a Community Hiring Hall so that minorities and city residents get their fair share of city-funded jobs, and Public Power for lower rates and clean energy.
We will continue fighting for these policies. Thank you to all the supporters, volunteers, and donors who made this strong campaign go as far as it did. read full statement

Howie Hawkins has practical solutions to the problems we face. He has demonstrated over decades of community organizing that he will work hard as 4th District Councilor to make them happen.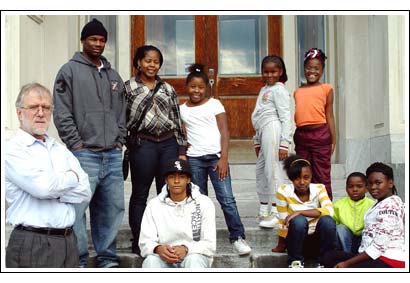 Here is a summary of the key policies Howie will promote as 4th District Councilor:
Jobs – A Community Hiring Hall to insure a fair share of city-funded jobs for inner city residents
Fully-Funded Schools and City Services through progressive tax reforms that tax the rich
Youth Jobs and Recreation Programs to cut crime and violence
Lower Utility Rates for residents and businesses through a city-owned Public Power utility
Community-Owned Businesses – planned, financed, and advised by a Municipal Development Bank
Transportation Justice - Better bus service and bike and pedestrian paths for the 4th District
A Community Activist for the 4th District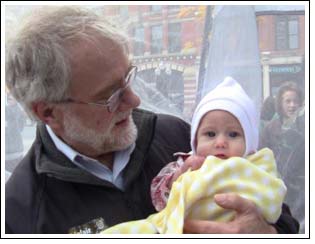 Howie Hawkins has lived on South Side since moving to Syracuse in 1991. A Teamster who unloads trucks at UPS, Howie has been an organizer in movements for peace, justice, labor, and the environment since 1967. His past campaigns for Common Council and Mayor put Living Wages and Public Power on the city's agenda. In the community, Howie supported the now much-missed South Side Newsstand and is currently a board member of both the Southside Community Coalition and the developing Southside Food Cooperative. For decades, Howie has fought for much-needed reforms with the hard work and staying power needed to make changes happen when he is elected to Common Council. For more on Howie's background, go to his biography page.
What They Say About Howie Hawkins
Howie Hawkins is the most unwavering progressive I think I've met in New York State.
Ralph Nader (Post-Standard, Oct. 4, 2004)
Hawkins is far and way the best candidate.... As is his custom, Hawkins has shaped his campaign around a promise to provide a voice for the voiceless. He is a tireless activist for empowering the traditionally disenfranchised. He promises to be a councilor who "represents the community instead of the power structure."
Post-Standard Editorial endorsing Howie Hawkins for 4th District Councilor in 2001 (Oct. 31, 2001)
The Post-Standard endorses Howie Hawkins, the Green Party candidate, for one of the seats.... His many ideas - including establishing a community hiring hall, creating a municipal bank and developing a green tech training center - could spark more progressive, out-of-the-box thinking in City Hall.
Post-Standard Editorial endorsing Howie Hawkins for Councilor At-Large in 2007 (Oct. 30, 2007)
Hawkins' lengthy list of public policy initiatives includes tax reform and reining in "corporate welfare." He also gets down to Earth with calls for a new grocery store on the South Side, more investment in youth programs, a municipal development bank and a community hiring hall, with training for "green" jobs. He still advocates for public power as an economic alternative for Syracuse, and wants full implementation of the living wage law....Hawkins' approach takes the councilor's role to a more proactive level — where it needs to be in these challenging times.
Post-Standard Editorial endorsing Howie Hawkins for 4th District Councilor in 2009 (Oct. 28, 2009)
The Green Party's agenda seems to hold more water every time Howie Hawkins gets a platform.
Post-Standard Editorial on the Mayoral Election (Sept. 29, 2005)
Hawkins brings a progressive perspective to the race. He prescribes an immediate end to the wars in Iraq and Afghanistan, massive cuts in defense spending, major new public investment in "solar-powered sustainability," universal health care, and taxes on carbon and securities transactions. He brings a deep knowledge to these issues and has at times outshone both of his opponents in their joint appearances.
Post-Standard Editorial on the 25th District Congressional race in 2008 (Oct. 29, 2008)
Perennial candidate Hawkins has mounted his customary substantive campaign. His "Green New Deal" envisions full employment at living wages, universal health care, fully funded schools and free college tuition, and a sustainable economy with progressive taxes, fueled by renewable energy. He seeks to reach the 50,000 vote threshold, which would move the Green Party up on future ballots.
Post-Standard Editorial on the New York Governor's race in 2010 (Oct. 31, 2010)
This should be a vote based on hope, not on fear, and that is why Metroland endorses Howie Hawkins for governor of New York. Hawkins has the kind of progressive ideas that Andrew Cuomo needs to hear about. Hawkins' plan to reinstate the stock-transfer tax and use it to create a Works Progress Administration-like entity that would offer jobs to unemployed New Yorkers might seem like a pie-in-the-sky dream, but that is because progressives have let conservatives vilify them without pushing back. Hawkins has the kind of policy initiatives that progressives have been scared to mention for years. It is time to stand up and tell Democrats and Republicans that we have had enough of their ties to corporate interests, that we are sick with scandal fatigue and policy agendas that shift to meet the needs of lobbyists and campaign donors. If you want to send Cuomo a message that he is too far to the right, vote for Howie Hawkins.
Metroland (Albany) Editorial endorsing Howie Hawkins for New York Governor in 2010 (Oct. 28, 2010)
Voted "Best Activist" by the readers of the Syracuse New Times
Syracuse New Times (Sept. 30, 2010)